A MASSIVE gold nugget that could be worth upwards of half a million dollars has been unearthed in Ballarat.
The nugget, weighing in at 5.5 kilograms (177 ounces), was discovered by a local prospector yesterday, who rushed it to the Ballarat Mining Exchange Gold Shop.
The exact location and the identity of the lucky prospector remain secret, but gold shop owner Cordell Kent said the nugget was found within 30 kilometres of the Ballarat CBD.
It was found about 60 centimetres below the surface of the earth, with the prospector using a state-of-the-art detector worth upwards of $6000 - aMinelab GPX-5000.
If sold at market value it would be worth just shy of $300,000, but its extreme rarity would mean it be worth far more, according to Mr Kent.
"If you are silly enough to melt it down, it would be worth just under $300,000 on market value but as a nugget at this size and shape, it's worth significantly more than that," he said.
"I can't remember a nugget this big ever being found locally."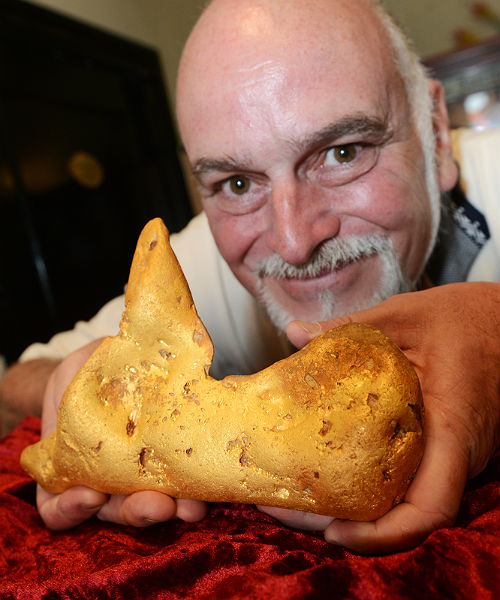 Ballarat Gold Show owner Cordell Kent with the nugget found. PICTURE: KATE HEALY
Mr Kent said the prospector had found small pieces of gold before, none of which had been worth more than $1000.
"Up until yesterday the smallest nugget he had found was a small one, about a quarter of an ounce," he said.
"A finding like this gives people hope. It's my dream to find something like that, and I've been prospecting for more than two decades.
"We're so far into a gold rush and we have years and years and years of hope ahead of us. It's unbelievable."
It is expected the nugget will be sold to a collector or possibly a museum.
Mr Kent said he hoped to sell it within Australian and given its size, there would need to be special permission granted for it to be exported overseas.
He also predicted there would be a fresh gold rush hit the Ballarat region.
"I've got no doubt there will be a lot of people who will be very enthusiastic about the goldfields again, it gives people hope," said Mr Kent.
"There's nothing like digging up money, it's good fun."
The nugget, named Destiny, weighed 3.66kg and was discovered in the Golden Triangle region of Ballarat, Bendigo and Stawell.