KERRY Packer affectionately labelled her his cash cow.
Nene King took the reins of the billionaire's ailing Woman's Day in 1987 and with a tawdry mix of paparazzi pictures and celebrity gossip – gained with the liberal opening of Packer's chequebook – turned a $7 million operation into a $49 million one.
Think topless royal Fergie having her toes sucked by a Texan accountant in the south of France, secret pictures of Princess Diana working out in her London gym and recently separated former Prime Minister Bob Hawke and his new love, Blanche d'Alpuget, happily posing for the cover in their white bathrobes.
"What I did was new and different. Back then, the papers were fairly staid and the magazines were full of knitting patterns and scone recipes," King said.
"I'll always remember when I took over Woman's Day, the previous editor had sent a girl to Ethiopia for three weeks to cover the famine and here I was looking for sex and drugs and rock 'n' roll."
Women responded in droves and King made Australia's richest man even richer.
Now 70, the one-time publishing powerhouse lives a world away in a small, tastefully renovated Victorian cottage she refers to as her "Ballarat lean-to".
She moved there three years ago, having lost almost everything – everything, that is, but the charismatic energy that won over the notoriously-volatile Packer.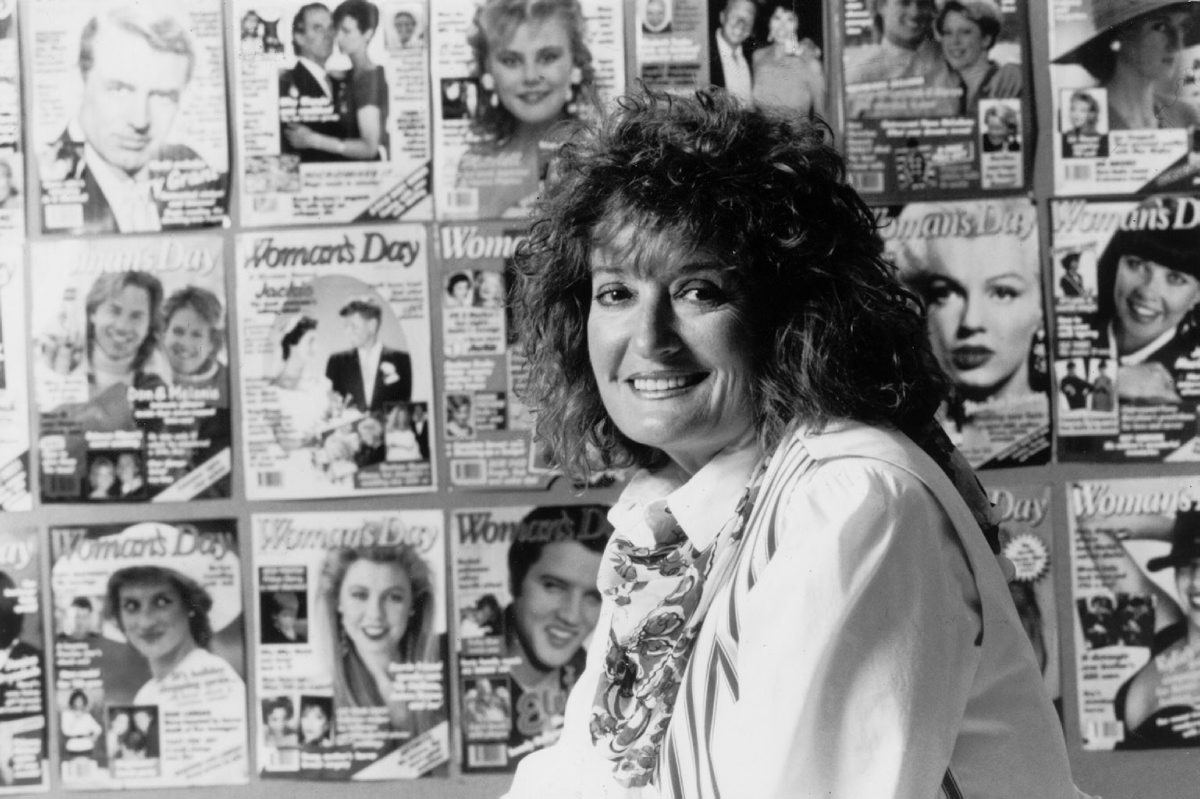 Nene King at the peak of her magazine editing heyday.
In 1987, the media mogul was fresh from his once-in-a-lifetime sale of the Nine Network to Alan Bond for $1 billion and had recently acquired a suite of Australian Consolidated Press magazines.
King was fresh from an acrimonious split with New Idea doyenne Dulcie Boling, the editor to whom she had served for seven years as deputy.
It was fortuitous timing.
In his palatial office, high above the streets of Sydney, Packer appointed the feisty redhead to turn around the fortunes of Woman's Day.
What followed, for better or worse, was a revolution in the Australian women's magazine industry.
The combination of his cash and her steely determination proved a formidable one.
"There was a special phone that was only for Kerry Packer and it rang in my office one day and I picked it up and he said 'Kerry Packer's office now'," King said.
"I was about five minutes because I put my lipstick on.
"Anyhow, he said to me, 'what are you going to do for Woman's Day?'
"In those days, Woman's Day was 300,000 (sales) behind New Idea, so I said 'I'm going to make it number one and I want lots of money for television advertising and to buy good stories', and he said, 'oh you bloody editors are all the same'.
"Then, of course, circulation started to go up and he loved it."
A circulation war erupted with the Rupert Murdoch-owned and Boling-led New Idea.
It was Packer versus Murdoch, King versus Boling – irresistible fodder for the producers of the highly anticipated ABC TV dramatisation Paper Giants: Magazine Wars, which premieres Sunday night on ABC1.
Eventually, under King's editorship, Woman's Day not only equalled New Idea's sales, it surpassed them.
Her methods invariably attracted critics. She went from a genteel education at Melbourne's Methodist Ladies College to being labelled the country's cash and trash queen.
It's not a label she shirks.
"I wasn't mad about MLC, to be honest. On the last day, I left and never looked back," she said.
"They still ask me to be an old collegian and I say, 'ooh, no way'.
"I would call myself trash and cash queen. I certainly did open my chequebook but so did everybody else."
Despite eventually competing with King in the so-called gutter journalism stakes, Boling sniffed that her competitor appealed more to western suburbs types.
King proudly proclaims it to be the case.
"I was a westie, a westie, a westie," she shrieked.
"None of that Vaucluse nonsense. I had the common touch, I think. My readers were me, I didn't go to fancy parties or opening nights, I shopped in supermarkets and talked to the newsagents."
While King made Packer richer, he, in turn, rewarded her.
He promoted her to editor-in-chief of his array of women's magazines and made her the first female board member of his Publishing and Broadcasting Limited.
"I look back now and see myself sitting at a board meeting with Kerry, who winks at me, and it just seems like I'm talking about another person."
"He was wonderful. When I was announced as the first woman on his board, the first board meeting he came and picked me up, sat me on his right side and said, 'Don't talk now,' and then, 'You can open your mouth now'," she said.
"I look back now and see myself sitting at a board meeting with Kerry, who winks at me, and it just seems like I'm talking about another person."
While much derided as the queen of cash and trash, King was simultaneously feted.
She was named the most influential woman in Australia.
"I earned a lot of money, a lot of money," she said.
"It was a wonderful life because I was successful. I had the support of people like Kerry and James Packer and I ran in and out of Versace and Dior and Tiffany."
These days, she said, she runs in and out of Rivers, Jay Jays and Big W.
Her very public downfall began when her beloved husband, Patrick Bowring, went missing on a diving trip in 1996.
When Bowring disappeared under the Bondi ocean surface, the indomitable Nene King went with him.
"I used to smell Woman's Day. They would send me them very late at night and I would smell them. I would sleep with the covers under my pillow for luck," she said.
"After Pat died, I was standing in my office, looking out at the traffic in Sydney, and I looked down at my cover and I thought, 'I don't care'.
"I became a different Nene."
The different Nene was an emotional, volatile and lonely woman, who spiralled into substance abuse and psychiatric care and was left vulnerable to exploitation.
Two men are due to stand trial in November on charges of squandering her fortune.
She was forced to sell her Caulfield South home and relocate to a more affordable location.
"I was looking for a new lifestyle and someone suggested Geelong or Ballarat. I went down to Geelong and I didn't have a good feeling about it, but I loved Ballarat," she said.
"It's pretty and compact, so I was able to afford a cottage, a little lean-to, and decided to settle here.
"I love it. I'm not bothered here, I feel safe and people are very, very kind."
The one-time toast of Australian publishing now spends her days pottering around op shops, walking her two dogs and writing her weekly agony aunt column for New Idea.
King also volunteers on Mondays to speak at Vision Australia.
She had hoped to live her remaining days here quietly, so she is somewhat uncomfortable the spotlight has been turned on her own life with Paper Giants.
Ironic, given she made her name by invading the privacy of celebrities.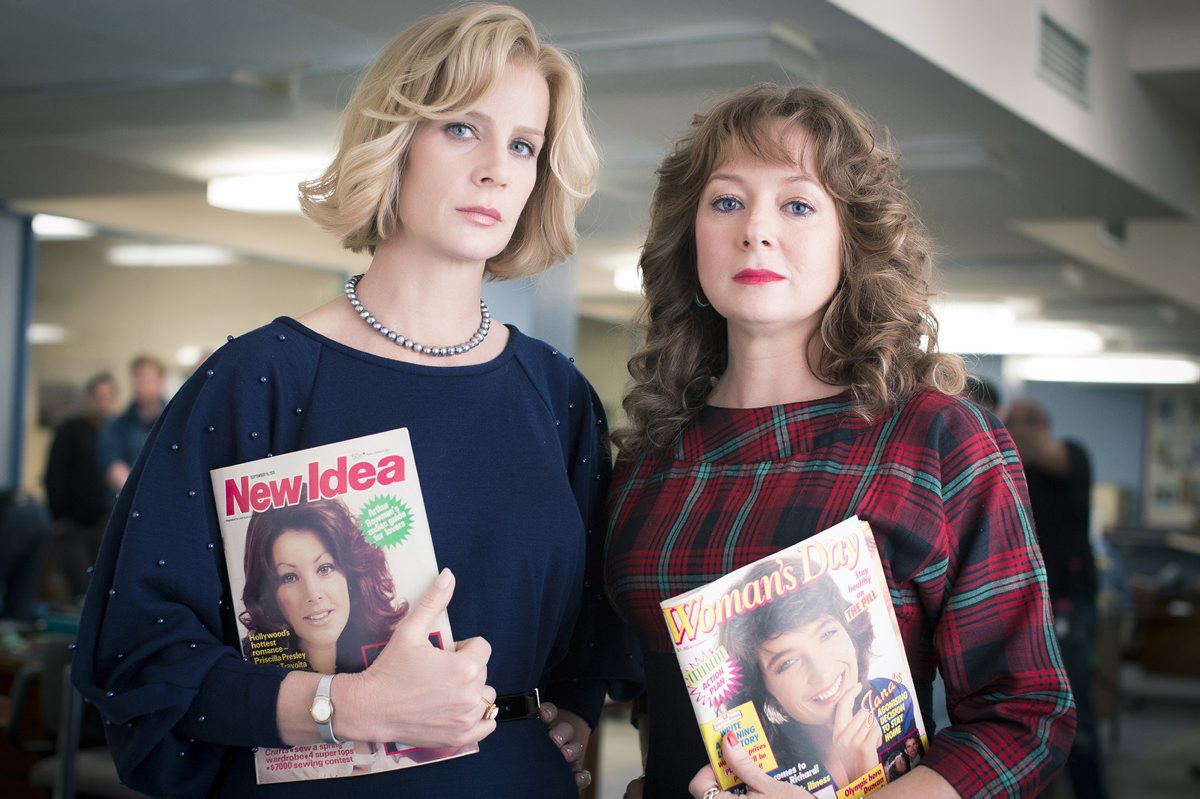 Rachel Griffiths as Dulcie Boling and Mandy McElhinny as Nene King in Paper Giants: Magazine Wars.
"Southern Star rang me and said this is what they were doing and I very quietly said, 'I don't want it made. If I don't want it made will you still go ahead and do it?'
"The lovely girl said, 'Oh yes, we would'."
King begrudgingly agreed to be a factual consultant on the show, but is not happy with how she is portrayed.
"They wanted the television stuff, they wanted sex and drugs and rock 'n' roll. They didn't want to show Nene in a good light," she said.
"They didn't want to show the love I had for my husband and the caring of the staff. That doesn't make good television.
"So they've got me yelling and screaming and throwing things off a desk, which I've never done.
"When it all boils down, I just want it to go away now, I want it to be over."
Mandy McElhinney – the actress who has gained a cult following as Rhonda in the AAMI insurance ads – portrays King sympathetically as a woman determined to succeed after being denied the TV Week editor's job by Rachel Griffiths' ice-maiden Dulcie Boling.
McElhinney's King is loud, common and occasionally hot-headed, but far more likeable than Griffiths' cold, reserved and unemotional Boling.
King said that aspect of her character is not entirely untrue.
"I was loud, you can see I was a show pony, and if I had something personal to discuss, I would call them in to my office and close the door and up went the sign, 'the dragon lady' was in," she said.
"I was loud and emotional and absolutely obsessed, but there also was a nice Nene."
King also said the series exaggerated the rivalry between herself and Boling, insisting she was driven by the desire for success, not revenge.
The pair has not spoken since King stormed out of the New Idea office in 1987. Or was fired, depending on which side of the story you believe.
"We out-scooped each other with Camilla-gate tapes and toe sucking and things," she said.
"Dulcie makes out it was personal, but I just wanted to be successful.
"It got back to me that Dulcie said I wouldn't make an editor's bootlace when I asked to be editor of TV Week and I'd be a five-minute wonder when I went to Woman's Day, so when I did become number one, I guess that gave me a bit of satisfaction.
"I guess because I was so unhappy at New Idea, I was looking for some pleasure and it all came my way under the Packers.
"I don't know, it's ancient history."
Asked if she thought the new Paper Giants series would prompt her popularity resurgence with a younger generation, the way Paper Giants: The Birth of Cleo did for Ita Buttrose, she shakes her head.
"I'm a very different type of person to Ita. I can't imagine what use I would be," she said.
"Ita always had a wonderful image out there, she was a class act – she didn't air her dirty laundry in public."
King said she had no regrets from her time as magazine queen, not even a pang of guilt over the death of Princess Diana, whose relentless pursuit by the paparazzi landed her face on many a Woman's Day cover.
" We used to be able to hang on to an exclusive, but you couldn't ever do that now."
"Why would I feel guilty of anything? She courted the press a lot of the time too, don't forget."
She insists her success was partially attributable to luck and circumstance and with the rise of the internet, the heyday of the gossip mag has long gone.
"We used to be able to hang on to an exclusive, but you couldn't ever do that now," she said.
King never had children and lost many of her friends through her years of psychiatric illness and substance abuse.
As an inherently social creature, she admits she often finds her quiet Ballarat life a lonely one.
"I'm not content. I'm a survivor. I have learned to live alone and enjoy it. I miss Patrick and my parents. I miss the people that were on my side, warts and all. I've been a terrible friend and a terrible daughter but they still loved me, warts and all," she said.
Though it's a long way from the glitz and glamour, King insists she has "everything I need at my age and stage".
And the memories of Kerry, the powerful friend who made it all possible.
"I can remember he was surrounded by women. He wasn't the most attractive man, but they just fell at his feet."