SCATTERED across more than 2600 hectares of prime farming land, the $260 million Mount Mercer Wind Farm is certainly an impressive sight.
Currently operating at half its capacity, with 32 of 64 turbines creating energy, the wind farm is expected to be firing on all cylinders by the middle of the year.
Pouring energy into a grid near Elaine, once complete the farm will generate enough renewable energy to power almost 100,000 homes – or the whole of Ballarat.
The Courier took a tour of the wind farm yesterday, alongside representatives of some of Ballarat's largest organisations (and energy users).
Love them or hate them, the wind farm has certainly created some form of quiet beauty on Mt Mercer's rolling paddocks.
Meridian Energy Australia chief executive officer, Ben Burge, describes each tower – soaring 126m into the sky and weighing more than 200 tonnes – as a feat of "engineering porn".
Mr Burge added that most the energy created at Mt Mercer will be consumed in Ballarat.
"These wind turbines are a major asset to the community," he said.
The wind farm occupies the farming land of seven land owners, and once complete will allow the owners to continue to farm their land.
Meridian Energy Australia assistant project manager Angus Holcombe said most of land was owned by sheep and cattle farmers, while an area to the south was owned by a commercial piggery, Western Plains Pork.
Mr Holcombe said land owners were first approached in 2003 before Meridian Energy Australia bought the development rights in 2009.
Chief executive officer Ben Burge describes each tower as a feat of "engineering porn"
Construction of the wind farm started in December 2012 and at its peak has had more than 250 employees working on it to get it up and running.
Once complete it is expected that the wind farm will provide 20 full-time jobs.
Powershop, a parent compant of Meridian and one of the new companies in the world of energy providers, hopes to sign up more than 5000 Ballarat customers over the next 12 months.
A number of Ballarat organisations, including UFS Dispensaries, have already signed up to Powershop.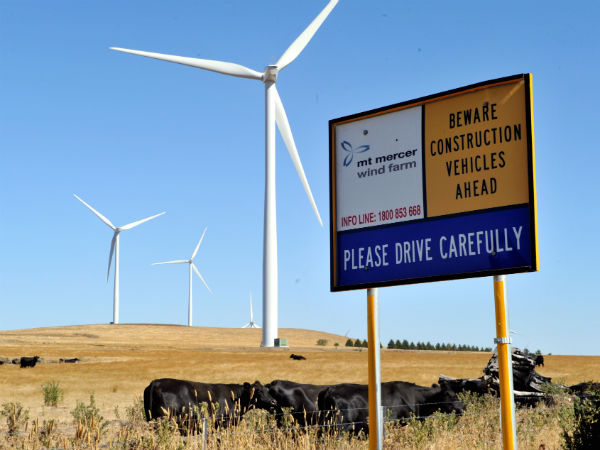 The Mount Mercer wind farm, south of Ballarat. PICTURE: JEREMY BANNISTER
BALLARAT residents are in for some big savings if they use energy provided by the Mount Mercer Wind Farm, according to Meridian Energy Australia.
Meridian Energy Australia chief executive officer Ben Burge said the savings can be achieved because of the proximity of the wind farm to Ballarat.
"Mount Mercer is located very close to a major city of demand (Ballarat) and Powershop can lower energy prices because of the location," Mr Burge said.
Powershop is a parent company of Meridian Energy Australia, the organisation that owns the Mount Mercer Wind Farm.
Mr Burge said the close proximity meant less energy would be lost in its transfer to Ballarat.
"The further you transfer energy, the more wastage you get," he said.
"So less travel means less waste, and we can pass that on in costs."
Pressed on the issue, Mr Burge said being so close to the source of energy made a "small difference, but not a huge difference".
He said the real saving would come from Powershop having to offer competitive deals to Ballarat residents in order to compete with larger energy providers.
Comparing renewable energy and non-renewable energy sources, Mr Burge said there was no difference for the consumer.
"You simply wouldn't notice a difference," he said.
patrick.byrne@fairfaxmedia.com.au