Sean Simpson volunteers at the Ballarat Specialist School farm, where he helps out with technical information. He's pictured with students Natasha Albon and Joe Wheeler. PICTURE: KATE HEALY
BECOMING a volunteer was something Sean Simpson had been considering for a while.
But it wasn't until he did a stint with the Leadership Ballarat & Western Region program last year that he really got into giving.
"I did very limited community or volunteer work before," Mr Simpson said.
Last year, the Elders Rural Services area manager was one of 26 people to participate in the 10-month leadership program.
An initiative of Committee for Ballarat, the program seeks to harness the capacity of emerging leaders in the region.
Upon completion of the program, the participants contribute about 15 hours a month to an organisation which can use their skills in areas they are passionate about.
"It made me realise how important it is to offer my skills that I have learnt over many, many years," Mr Simpson said.
"It made me aware that people need to be part of the community and give something back to it."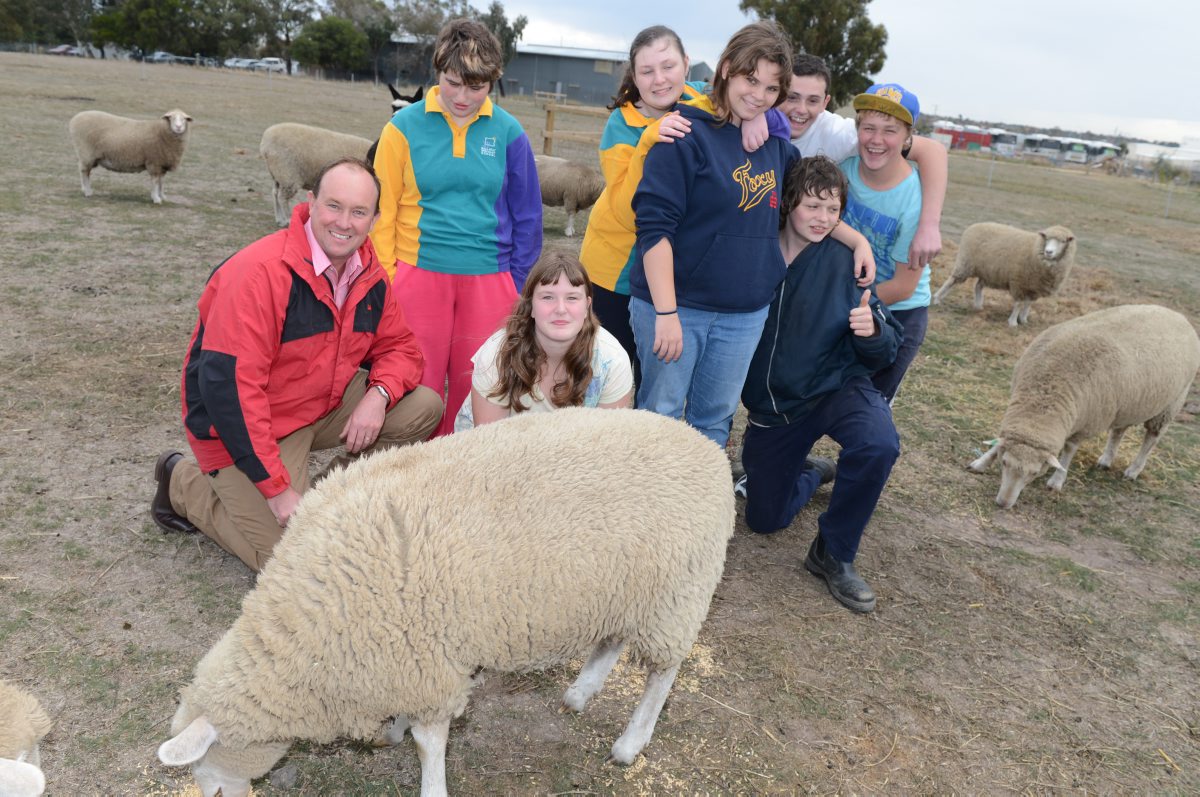 Sean Simpson says he gets enormous satisfaction from helping students at Balalrat Specialist School. PICTURE: KATE HEALY
Even after finishing his term with LBWR, the father-of-two has continued contributing "in kind" to the Ballarat Specialist School farm.
This includes offering advice about farming techniques, securing feed for the stock and providing nutritional advice.
"I get a lot of satisfaction from helping the kids and to know that I have some involvement in their education," Mr Simpson said.
"I am passionate about agriculture – it is part of my working life and most of my childhood.
"It is a big part of who we are as a nation and I want the kids to gain some enjoyment out of it."
Mr Simpson said part of his reason behind volunteering was to set a good example for his children.
"I have moved around a lot in my career, but now we are settled in Ballarat and I want to give something back to the community," he said.
"I want to set my children a good example."
But Mr Simpson said he was just one of the many people who gave generously of their time.
"There are a lot of people who are involved in the school," he says.
"People are very generous with their time and what they donate, but if you can be a small part of the organisation, you are doing your bit to help create awareness.
"And the more awareness there is, the more assistance you can create."
Another LBWR participant, Wendouree Breakfast Rotary volunteer Kath Venters, said there was no better feeling than helping your community.
Ms Venters joined the club in 2005 and hasn't looked back.
She said Wendouree Breakfast Rotary was involved in helping people change smoke detector batteries, fundraising and had recently donated some ESL (English as a Second Language) and literature material to the City of Ballarat library.
"I love that I can help make my local community a better place," Ms Venters said.
"It's also great that I can be involved in helping make a difference through international programs such as Rotary's End Polio Now."
Ms Venters encouraged anyone thinking about giving something back to their community to join a club such as Rotary or volunteer in some other way.
"It's definitely worth it," she said.
"Volunteering gives me a sense of belonging. It makes you feel you are part of the community really quickly."
Leadership Ballarat & Western Region executive officer Sofia Fiusco said 185 people had completed the program since its inception eight years ago.
"In this region, we have a strong sense of community, especially in rural towns where community is the heart of daily life," Ms Fiusco said.
Before being accepted into the program, LBWR participants are first nominated and then interviewed by a panel before being matched with a mentor to guide them through the course.
"We look for people who are at the point in their lives where giving back to the community is important," Ms Fiusco said.
"The whole program is about understanding the community and encouraging volunteerism.
"It's about being active citizens and saying 'where are the areas of need in my community and what can I do to help?'."
Three Mondays a month, John Ruyg volunteers at Ballarat's community radio station, Voice FM, presenting "music that you can play on the verandah without electricity".
Mr Ruyg hosts Global Sounds, a two-hour world music segment.
The music spans the genre of folk, blues, roots and acoustic music.
Having lived in Ballarat for all but seven years of his life, the 51-year-old has been contributing at Voice FM for 26 years.
"A city the size of Ballarat needs a community radio station," said Mr Ruyg, who is also a human resource manager with the CFA.
"And I think a community radio station needs to be diverse and part of that is world music."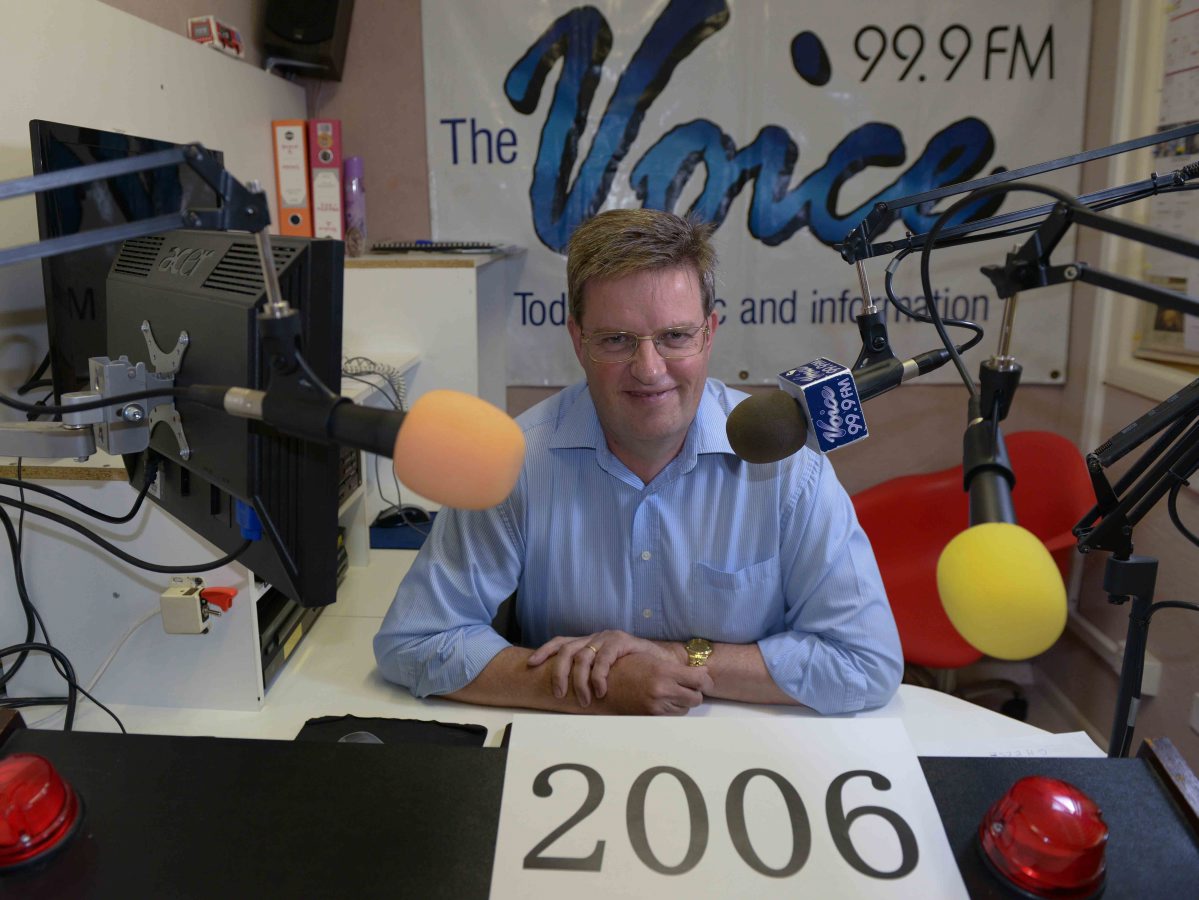 2006 LBWR graduate John Ruyg volunteers at community radio station Voice FM but says he doesn't see it as work. PICTURE: LIZ CROTHERS
In his bid to inform and entertain, the father-of-two spends 48 hours a month preparing for the program.
"I am always listening to new music, revisiting old music and trying to make connections between artists," he said.
"Preparation is throughout the week in the lead-up to Monday."
A 2006 LBWR graduate, Mr Ruyg said he doesn't see what he does with Voice FM as "work".
"I don't see listening to music 10 to 12 hours a week as volunteering," he said.
"I see it as a good use of my time. I see it as a hobby."
Nevertheless, his radio segment plays an important role in the lives of the city's inhabitants.
"It provides a bit of difference, a dose of multiculturalism," he says.
"I am hoping to expand people's understanding and appreciation of different cultures.
"At the moment, I am playing Sudanese music and listeners may get an understanding of the culture of these people who are recent additions to the city."
A current LBWR participant, Red Brick Gallery owner Steph Wallace has already been trying to make a difference.
"I run a internship program through the business where I teach creative people core business skills," Ms Wallace says.
"Being a creative person is a completely different mindset."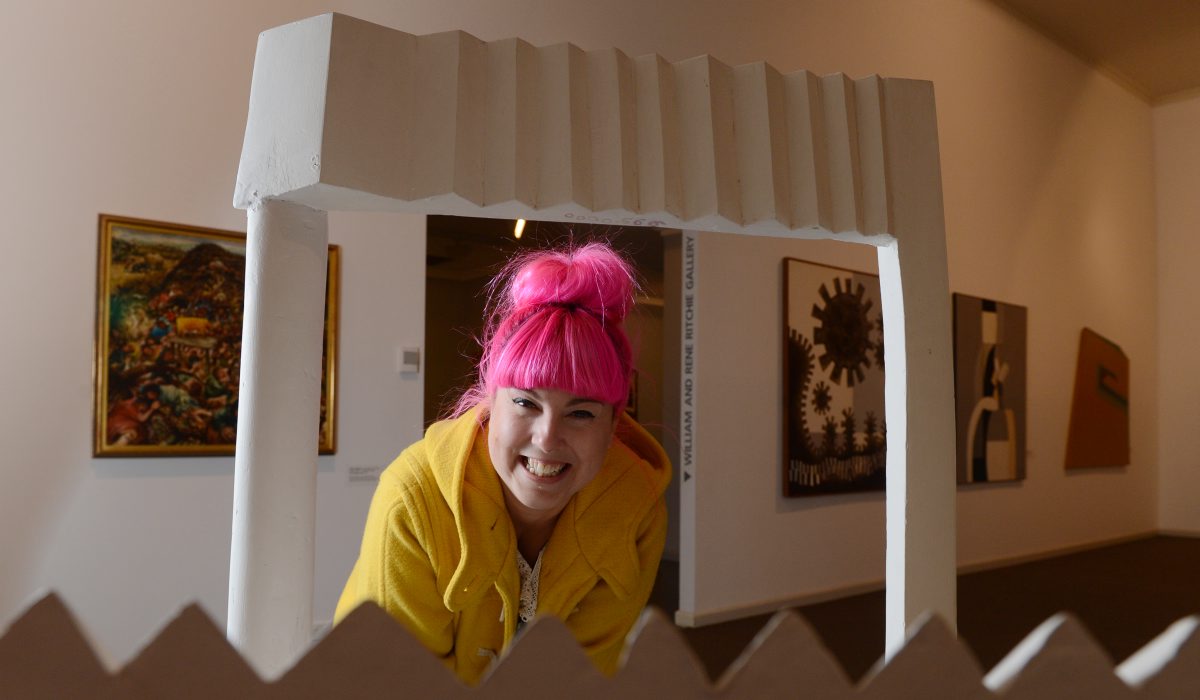 Red Brick Gallery owner Steph Wallace works with emerging artists at the beginning of their careers. PICTURE: KATE HEALY
Ms Wallace said the LBWR program was inspiring.
"As much as this region is a small community, it can be fragmented," she said.
"It can be hard to connect to people in other industries and learn from them.
"The program gives us the opportunity to experience many different sectors of the community."
Being an immigrant from the UK, Ms Wallace said volunteering had helped her connect to the community.
"Volunteering gives me a sense of belonging. It makes you feel you are part of the community really quickly," she said.
"I think it also increases your sense of personal value.
"It makes you feel appreciated, that you really have something worthwhile to give."
Volunteering in Australia: 10 fast facts
• Today, more than six million people (or 36 per cent of Australians) volunteer nationally. This figure doubled between 1995 and 2010.
• An estimated 600,000 not-for-profit entities contribute $43 billion to the economy – more than the communications, agriculture or tourism industries.
• The economic contribution of volunteering to Australian society has been estimated at more than $200 billion, outstripping the mining, agriculture and the retail sectors.
• Australian volunteers contribute more than 700 million hours of unpaid work each year.
• The economic value of volunteering is matched by its social and cultural value.
• The most represented age group is 35 to 44-year-olds.
• 50 per cent of volunteers do so because they believe they are helping others.
• The volunteer rate is higher outside of capital cities (32 per cent to 38 per cent).
• 36 per cent of women volunteer while 32 per cent of men volunteer.
• 2013 National Volunteer Week runs from Monday, May 13, to Sunday, May 19. It was first held in 1989.