TO her family and close friends, she is known as Linda Brumley.
But to her millions of adoring fans around the world, the author is known as Marion Lennox.
Ms Lennox is an award-winning author who estimates 20 million copies of her romance novels have been sold around the globe.
The books have also been translated into more than 30 languages and are sold in more than 130 countries.
"(Writing) is a bit like an itch I can't stop scratching, I can't see myself stopping, it is such a lovely thing to do, to be able to sit down and write," she said.
"I love it, to just be able to sit down on the back deck and put your feet up and write."
Ms Lennox writes for world renowned romance publisher Harlequin Mills & Boon.
However, her writing career began in a different fashion to most authors.
"When I was pregnant with my second child someone at playgroup was saying how easy it would be to write a Mills & Boon and I thought 'I can do that'," she said.
"I came home and had the option to either do housework or write a romance novel and I decided to write a romance novel."
Her first book was titled Dare to Love Again and was set in Tasmania.
The snap decision led to her taking on the demands of being a full-time author and writing four books a year.
Along the way she has picked up two Romance Writers of America RITA awards – the Oscar equivalent for romance novelists – and is about to publish her 100th book.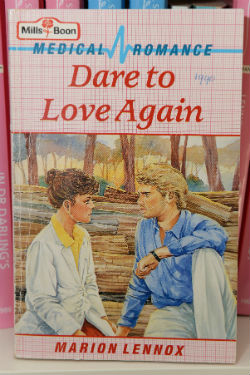 Accepting the awards in New York City is a long way from her humble beginnings in the heart of dairy farming in Victoria.
Ms Lennox was raised in the small town of Cobden and attended school in Camperdown before moving to Ballarat with her husband, local palliative care specialist, Doctor David Brumley.
The lavish RITA ceremony left her stunned and occurred shortly after receiving a special presentation from her publisher for writing her 50th book.
"It was a beautiful night... walking into this place and I was nominated for a RITA. I had been given this presentation for my 50th book and I thought 'I just wish the cows could see me now'," she said.
"It was just different to what I envisioned growing up in a dairy community.
"The last thing I thought anyone could make money out of was writing. I was good at maths and science so that is what I did."
The ideas for stories come easy to Ms Lennox, who admits she has no idea how a story will end when she begins it.
"I always loved to make up stories in my head, my mum used to say I used to make up stories in my cot.
"They are just there, you know they are just there and I was born with that. I used to think that everyone was like that. It is just something that even as a kid I would always turn off and go into my own world.
"When I had kids, if I was busy and they wanted a bedtime story, I would tell them to just make their own one up. They would look at me as if I was peculiar."
The move to Ballarat included landing a job at the then University of Ballarat as a lecturer in statistics.
"When I first started writing I didn't stop teaching," Ms Lennox said.
"I stopped because I got breast cancer 10 years ago.
"It took a year out of my life and, at the end of it, I thought maybe I was spinning in too many different directions and I thought maybe I just need to slow down and focus.
"It was a bit of a wake up call... I was in so many different directions."
The breast cancer scare forced Ms Lennox to focus on writing as her sole career, penning one RITA winning novel while undertaking chemotherapy.
"It was fairly grim and during the time I was having chemo, I didn't want to be there," she said.
"So what I did during that time was I made up a country somewhere around Lithuania, a beautiful county vaguely like Monaco, but totally different," she said.
"Then I put a royal family in there and I had an Australian stone wall builder. That was her passion and she went over to repair the castle and ended up marrying the prince. It was just a total fantasy, silly and fun.
"I did it while I was having chemo and it was the best thing I could have done, it just took my head completely away from anywhere."
The question that many readers may be asking is whether Ballarat has been at the centre of any of her long list of novels.
"It is a huge source of inspiration. I know a lot of people through my work and through teaching, through social life, through David," she said.
"I talk to the local Probus group and they will say they know someone who makes goat cheese or tapestries or whatever and the antennas are always up and off I will go to spend a couple of days with someone and learn what it is all about."
"I did it while I was having chemo and it was the best thing I could have done"
Learning about different professions is something Ms Lennox enjoys and ensures her books stay realistic.
Ms Lennox, a self-confessed romantic, uses her husband as a proof reader.
"He is very pedantic and he doesn't let me get away with anything," she said.
"He also doesn't let it get too soppy, or if my plots get a bit wild, he brings me back to earth."
While her husband may be the proof reader of her novels, there are two other members of the household who are just as important in the writing process.
Household pets Mitzi and Tigger are seen as being writing companions for Ms Lennox.
The Mills & Boon books, which are celebrating 40 years in Australia in February, are known for their sometimes steamy storylines.
However, the sexual factor isn't the most important part in one of Ms Lennox's books.
She said sex could be a progression of the drama readers would notice throughout the storyline, not just because it was expected by readers. However, the writing has allowed her to indulge her romantic side.
"I guess I have always been an optimistic person and I believe most people are looking for their best friend," she said.
"If you can find someone who is your best friend and you are romantically attached to them, then that is just awesome in life and I have been lucky enough to do it.
"It helps that I, touch wood, have my own happy ending."