Authorities have not forecast a disastrous fire season but have warned people about the dangers of becoming complacent as the weather warms up.
In Buninyong yesterday for the region's 2012-13 fire season briefing, CFA deputy chief officer Alen Slijepcevic said fire authorities were not expecting an explosive summer.
The briefing allows DSE and CFA personnel to meet and discuss the upcoming fire season with members from Victoria Police, the SES and Parks Victoria.
Mr Slijepcevic said co-operation between agencies was crucial to fire preparation and said it was important for agencies to "re-establish" relationships before summer.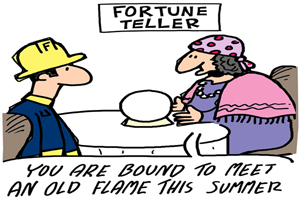 He said an annual workshop run by the Bushfire Co-operative Research Centre determined that Victoria's fire assessment was average this season.
"But in an average season, we can still have a bad fire ... it takes an incredible amount of rain for our vegetation not to burn."
"The safest thing to do is to leave early and not be there when the fire starts."
Despite the "average" forecast, DSE south-west fire manager Hamish Webb said a recent planned burn in Western Victoria showed that this summer would still be risky.
"We're burning in winter, which tells us it's pretty dry to be able to do that," he said.
"It's great for the planned burning program, but to me, it's starting to send a few warning signals."
"Being prepared for fire is a 365 day thing."
Ballarat Police Senior Sergeant Neale Robinson said it was important that residents in fire danger areas had a plan and discussed it with family members.
"In relation to suspicious activity, if a member of the public sees a person or persons acting suspiciously they should call triple zero with the details," he said.